AR-Badge is an interactive conference badge, that is built on Augmented Reality (AR) and Optical Tracking (OT) technology. The smart-badge will help conference and meeting delegates to meet the right people and view current conference information based on their registration data.
Each badge will contain a printed 'marker', which, when held up to a web-cam, triggers the digital recognition software. This in turn launches the attendees registration data and the interactive content onto the screen, allowing users to experience the mixed reality environment.
This information is gathered through a questionnaire form at the time of conference registration. The information is coded and encrypted and converted to the badge marker. The badge will look like as a regular conference pass when printed with the delegate's details like personal and company name.
The interface will include all the information needed about the conference: (Personal Information, Ticket permission, Speakers, maps, images, videos). The users can interact with the interface by rotating the smart-badge 180-degree in certain areas.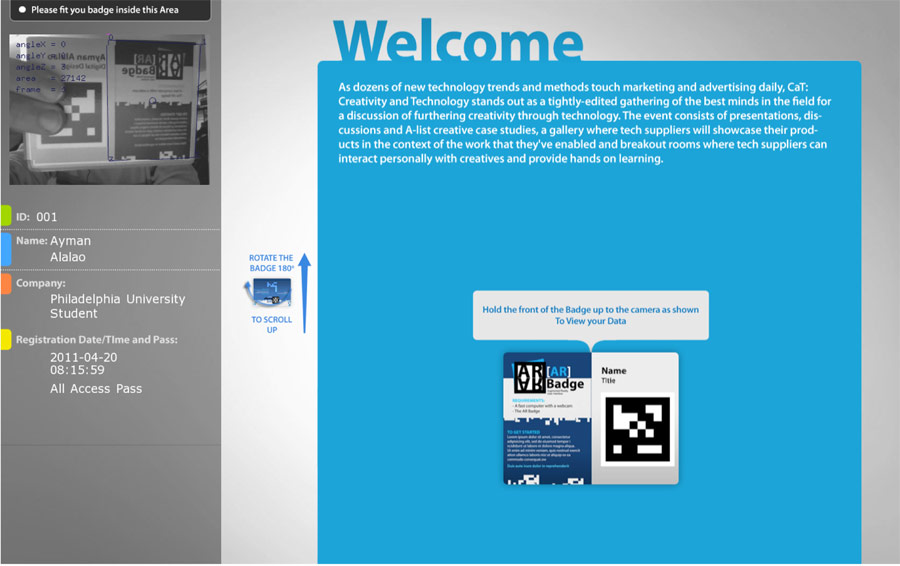 Role
Designer, Developer
Tags
Augmented Reality | Camera Recognition | CMS | openFrameworks | PHP | QR Code | XML
Credits
thesis supervisors